2023.12.10.
I was think about switching from #Things to #TaskPaper. Task-management is the last piece where I still don't use plain text, albeit using Markdown in Things notes (see 2023-12-09_12-09 Things to-do journaling template).
Why I like Things

Nice UI
#Markdown support in notes
Really good #Shortcuts integration
iOS and iPadOS versions, which are at the same level of excellence
There is a link to everything
No attachments

People tend to dislike this. Having no attachments support forces me to have better attachment management in dedicated apps like DEVONthink

Why I don't like Things

Uses a database

Every item in the TMTask table includes projects, headers, and to-dos

Sync is not end-to-end encrypted
No Spotlight integration

On the Mac, I periodically run a script which creates .hook files linking back to projects as way to have a fake Spotlight index.
Knowing that the database is fairly easy to understand, I'm a bit more confident that I can export my to-dos out of Things. I can even use the SQLite database directly as an archival format too.
The non-existence of end-to-end encryption is still bugs me though.
I'm an experienced software engineer living in Magdeburg, Germany. Available for projects that match (Swift()/[Objective C]).
Shrugs.app

Native Slack client for the Mac (not maintained anymore)
2023.12.07.
The following diagram explains the flow of my #Zettelkasten content pipeline.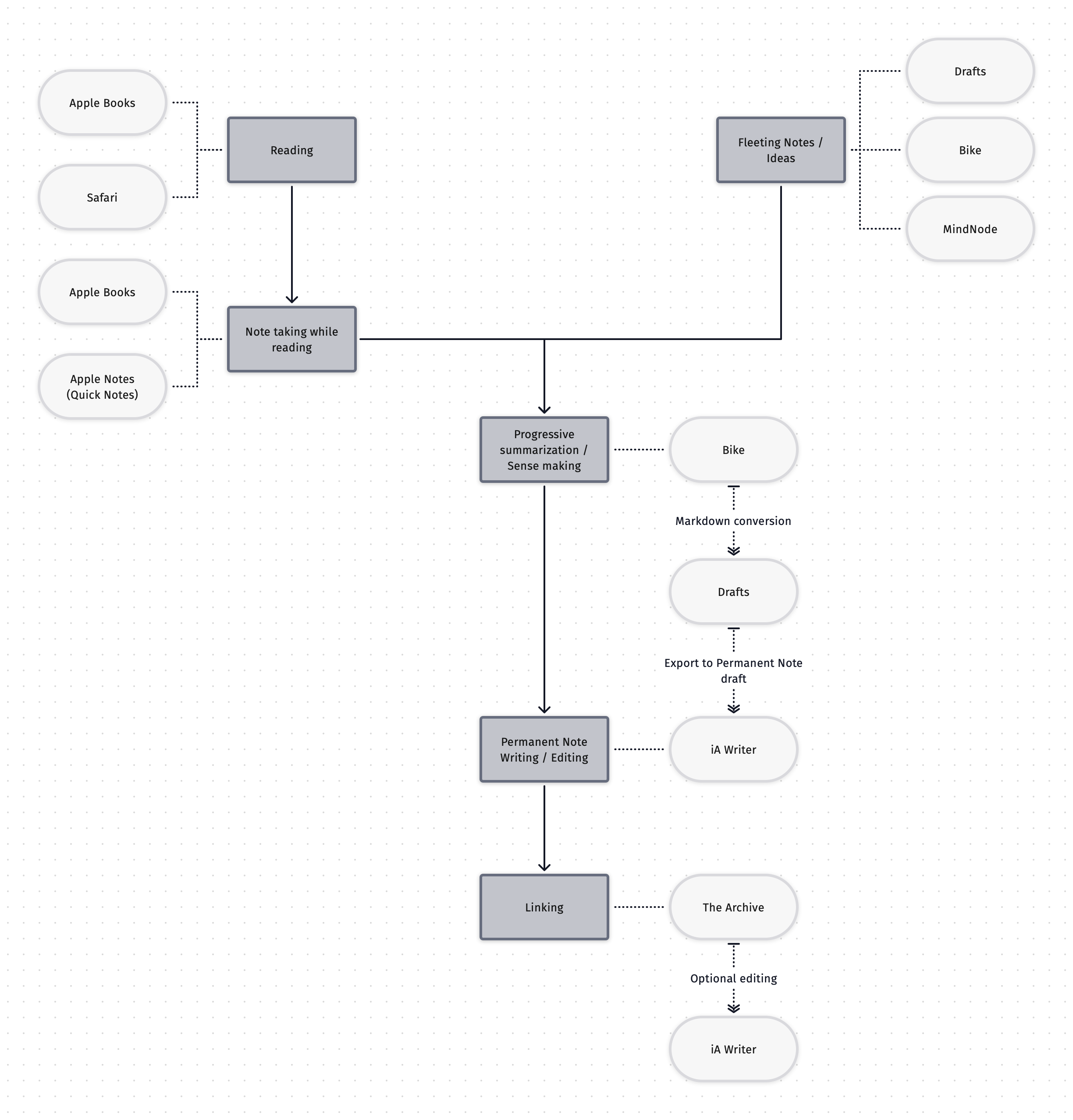 Incoming information: reading

My primary reading sources are Apple Books, Safari, and DEVONthink.
I'm taking notes while reading.

I use the built-in annotation tools in Apple Books.
I use Quick Notes in Safari.
I use the built-in annotation tools in DEVONthink or PDF Viewer for marking up PDFs.

Incoming information: fleeting notes and ideas.

Fleeting notes and ideas are things that I came up with from my mind.
Usually, these are triggered via external events like reading.

Processing

All of these annotations, ideas, and notes are collected in my Things inbox, where I process them using progressive summarization / sense-making.
I highlight the interesting parts and then add these to separate Bike outlines with a link to the source.
They will end up in my Zettelkasten as new notes ready for drafting.

Drafting

I use the #Drafting hashtag to keep track of my notes in iA Writer using a smart folder.
While editing my notes, I expand new ideas into separate notes created on the fly and linked.

I usually add the #Drafting hashtag to these too.

When a note is finished, I mark it with the #Linking hashtag

Linking
Searching

I mostly use The Archive to search and browse my Zettelkasten.
I also have private notes there, which are hidden from my published Zettelkasten so that I can keep track of other information in my Zettelkasten, too.
Screenshots of iA Writer smart folders setup


2023.12.06.
I indexed my #Zettelkasten notes in DEVONthink and also turned on syncing without uploading indexed items. On other devices, I also want to have this database synced, but I should also set it up the same way as on the original laptop.
I want to use DEVONthink to browse my Zettelkasten locally. It can even get and parse hashtags. But I can't use hypens in the name of the hashtag for the Hungarian suffixes.
2023.12.01.
I should create a shortcut which let's me export a selected Things todo into my Notes folder as a plain-text file, so I can use it next to Things as a drafting place for next actions as notes.
It would be enough to open it in TextEdit.
2023.11.27.
Create a new project for each post

Posts that are long
Projects has their own set of rules
Duplicate the Post Template project

Writing

🏷️ Drafting
🏷️ Revise
Use the Resources folder for assets

Publish to the blog

I merge all revised sheets
Run them through Grammarly

Or use the built-in grammar checker in Ulysses

Publish the post to my blog
Let it sit for a couple of days
Archive the project
2023.11.17.
Can Zettelkasten note linking be done on an iPad using an external display and Stage Manager.
My outline is managed by Bike, and there is no Bike app for iPadOS.
2023.11.02.
I can set a Git repository for almost any source material which I'm working on, and I'll have a nice history for these files.
Keeping a Git repository only works for file-based apps. It doesn't work for database based apps like Ulysses, or Bear.
On top of Git, it's still worth to keep manual versions for writings around, especially after reaching a milestone like the first draft, the first edit, or the version before spell checking. Manual versions usually work in database based applications too.

2.16.3 Keeping manual versions in Ulysses.
A capture log is a journal-based version of the inbox, where ideas are getting captured. This was an idea mentioned by Merlin Mann for the first time, where he wants to yell into the void and let Siri capture his ideas, with automatic metadata like creation date, a location, and optionally the weather.
A capture log is kind of a journal about our ideas. It's like a tail for our life.
The Inbox is a medium which contains items that change frequently. It is a temporary place that holds new information in the short term. It's like a tail for our life as Merlin Mann said it. → 2.14.12
The Storage is a place which holds processed information on the long term, optimally organized in some form of fashion. Organization categories should have clean edges, so we know what to store where.
By using these two information holders, we can separate the processing and organization part of #GTD.
2023.10.30.
When we have to name something we're forced to think about its meaning.
Naming a #Zettelkasten note is similar to naming a class in programming.

In programming a class describes a set of related behaviors.
A name have to describe these behaviors in a way that makes sense for us (and other developers).

Phrasing a title for a note will force us to came up a simple clarification on the content of it. This requires understanding.

2.6.11.5 A jegyzetcímekre API-ként kell gondolnunk
Follow-up on 2023-10-30_07-54:
I think the best possible solution would be to keep just the 1st, 2nd, and 3rd levels in the outline.
1st level should be visible since that's my entry to a main branch.
2nd level should be visible because these are idea threads which can be developed.
3rd level should be hidden though because these can be real rabbit holes which needs digging down into actual notes. I show them by expanding the 2nd level.
All other levels can be removed. This would keep the outline usable.
I have to add a script to collapse the 3rd level rows in the outline. I have a hunch that seeing the 2nd level should be enough to dig down into a rabbit hole of related notes.
I should have more 2nd level notes since, these can be used as a thread for actual future article drafts.
Keep backlinks the same for now. If I have a fleeting note with a title, it's nice to see the timestamp and the zettel ID there.
Follow-up on 2.6.5.9.1:
I have to remove zettel IDs from backlinks. There is no reason to see them for permanent notes since these links navigate to a different place in the outline.
For headless posts, the zettel ID the same as the title, so I see a duplicate title there. 2023-10-30_00-06
2023.10.29.
Follow-up on 2.6.5.9.1:
When do I have to use the follow-up button and when do I have to create notes in-place? The backlinks are behaving differently, since in the follow-up I can go backwards, with a link in-place link I can go forward.
Follow-up on 2.6.5.9.1:
If I want to have a private and flexible #Zettelkasten, I can use Bike.
When I'm developing an idea which expands my knowledge in general, I can use my public #Zettelkasten.